The average shower size in Australia is 900mm x 900mm, however, standard shower size Australia can vary based on a number of factors such as shower type, bathroom size and configuration, budget – and even bathroom's intended use.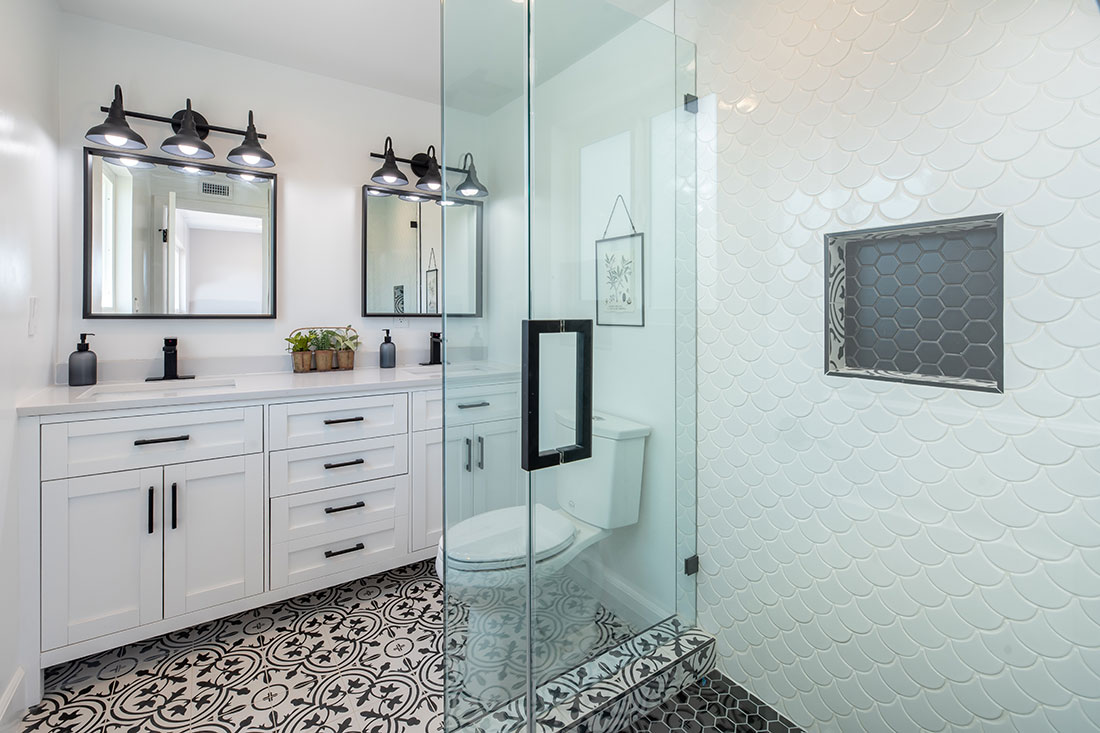 What is the standard shower size in Australia?
The average shower size in Australia is 900mm x 900mm. However, standard shower size Australia can vary based on a number of factors such as shower type, bathroom size and configuration, cost – and even bathroom's intended use.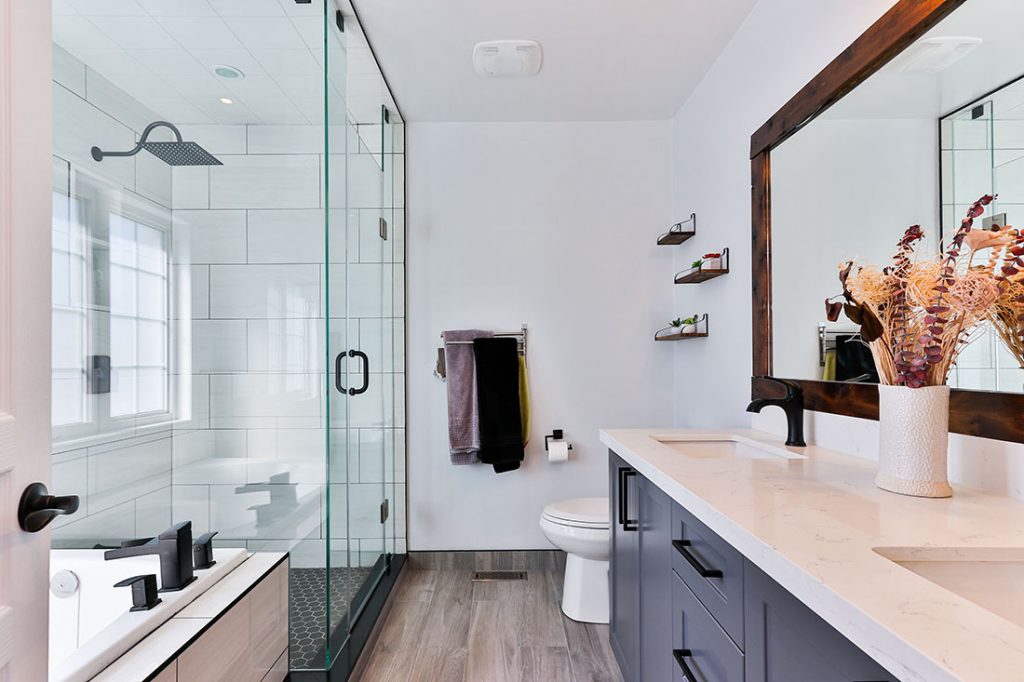 Why do standard shower sizes differ?
In modern Australia, 'standard' doesn't mean one size fits all. As with many other household furnishings and fixtures, one of the biggest factors affecting the average shower size is the amount of available space in the bathroom.
However, shower dimensions may also vary based on the bathroom's intended purpose. Is the shower in the main bathroom and will it be used by multiple people? Is it in an ensuite bathroom that will have to be regularly shared by two people but only used by guests occasionally? Is it a bathroom in a house with children? The answers to these questions will determine how much space and prominence is given to the shower – and define its practical function.
Finally, the third most common concern affecting standard shower size Australia is available budget and how that fits within the overall project.
How do standard shower dimensions differ?
When it comes to dimensions, standard shower recesses dimensions range from 900mm x 900mm up to 1800mm x 1000mm for a spacious single walk in shower. However, double showers are becoming more popular for homeowners who have enough space, and as a general rule would have minimum shower dimensions of 1600mm x 1000mm – and more if possible.
Disabled showers have to allow more space to ensure easy wheelchair access and in this case the standard shower size Australia is 2000mm x 2200mm at a minimum.
When it comes to the shower screen sizes, the recommended standard shower screen height is 1900mm. While 1500mm height tends to be the minimum to ensure the spray from the shower is contained, the height can certainly go all the way to the ceiling.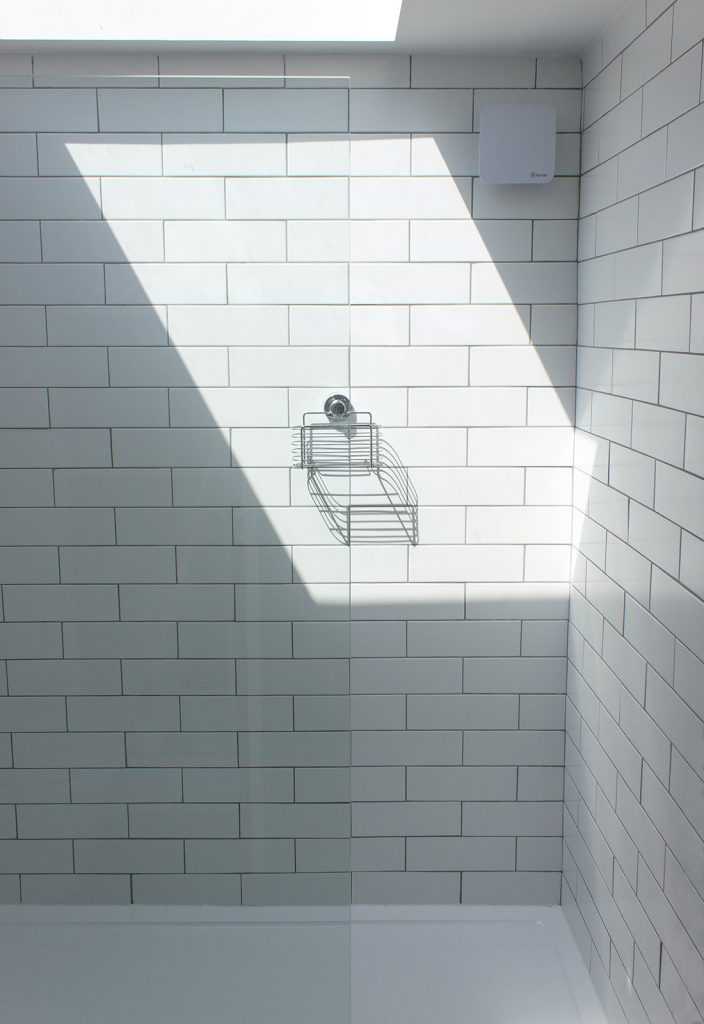 The position of the shower in relation to other elements of the bathroom is crucial to ensuring the correct shower dimensions have been identified.
It's vital to take the distance from the shower to the other objects into consideration to ensure the space is comfortable to move around and all fixtures can function properly. For instance, there should be approximately 450mm between the shower and the side of the toilet or other fixture if they're adjacent – and approximately 700mm – 800m if they're opposite each other.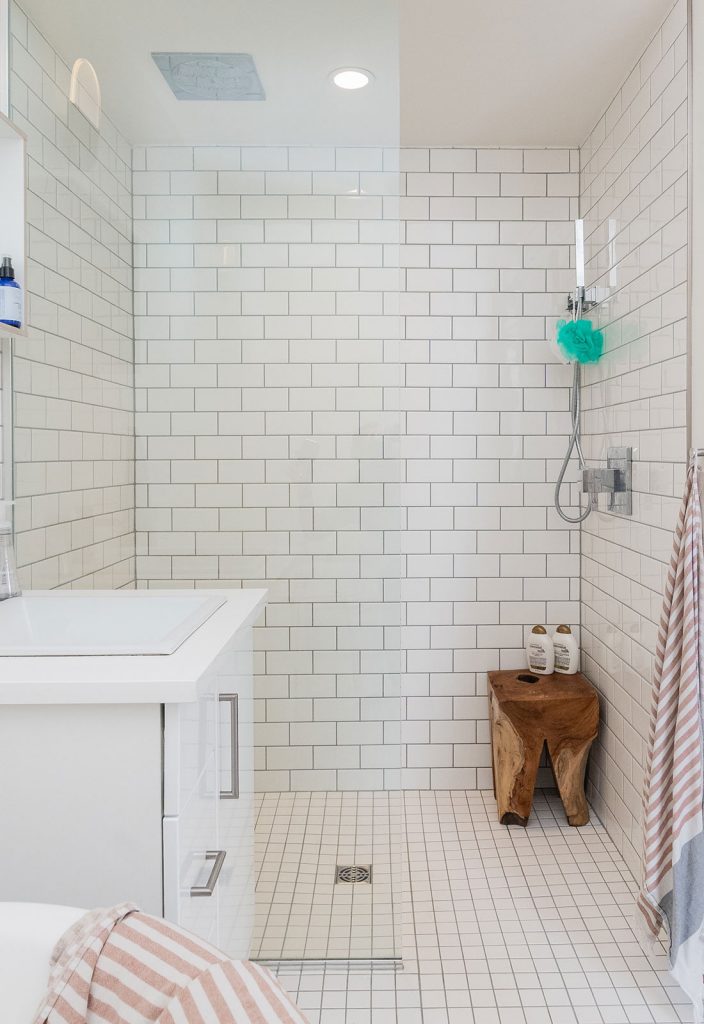 Standard shower sizes in Australia compared to overseas
Standard shower size Australia is most comparable with the average shower size in the US. There, shower dimensions are generally 36' x 36' – or 914mm x 914mm.
In Europe, on the other hand, there is a great variety when it comes to the average shower size. Traditionally, the showers – similarly to the house sizes in general – were small in Europe compared to Australia or the USA. However, as bathroom trends begin to align internationally, shower dimensions are increasing and becoming more uniform on a global scale.
In Europe, it is much more common to have standard shower dimensions because many showers use standardised shower trays as their base. The smallest shower tray may be as little as 700mm x 700mm, while a large one may be as big as 1800mm x 900mm.
Due to cultural differences when it comes to bathing, it is difficult to compare shower dimensions between Australia and Asia. In some parts of Southeast Asia, it is customary to merely have a shower head positioned in the bathroom with no delineation between a shower 'area' and the rest of the bathroom. In Japan, it is still common to find an ofuro – or traditional Japanese bathtub with dimensions of 1,524 mm x 914.4mm and 660.4mm in depth, as the most common form of bathing.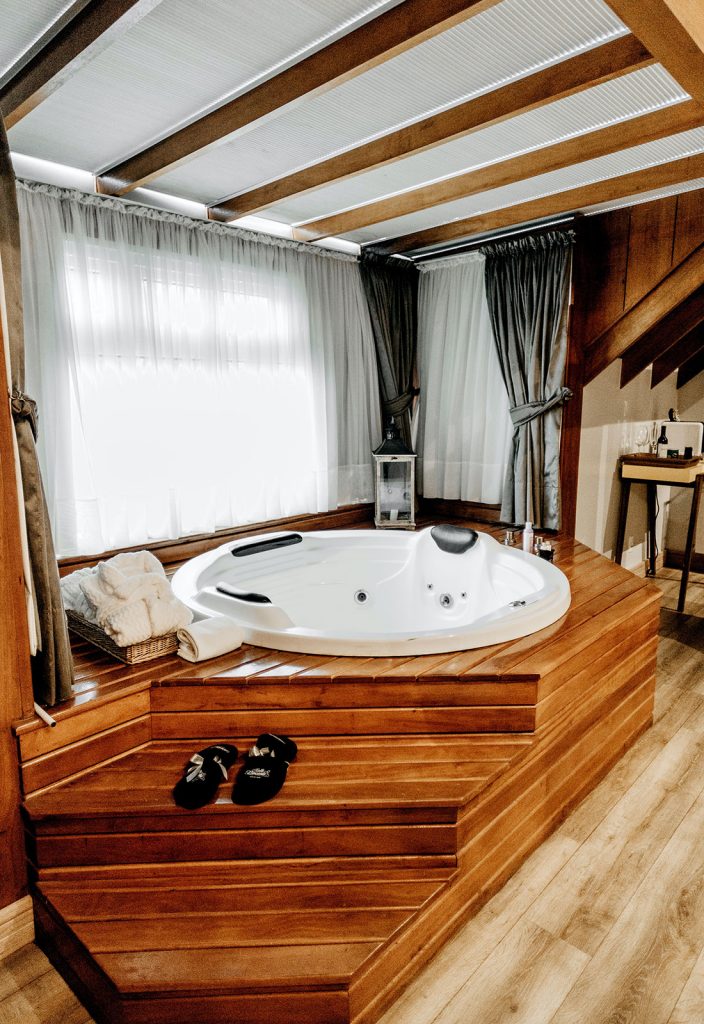 Different types of showers
There is a wide variety of shower types available on the Australian market. Depending on the available space, budget and the type, number – and age – of people who will be using the bathroom, there's an option for every set of needs. Small or big, functional or luxurious – here are different types of showers with associated average shower size, prices and types of spaces they might work with best.
Standard shower with shower screen
A standard shower with shower screen should have a shower width of at least 900mm and a depth of at least 900mm, although those dimensions can certainly be increased in line with space allowances. The minimum shower width for a standard shower would be 760mm, as in some European designs.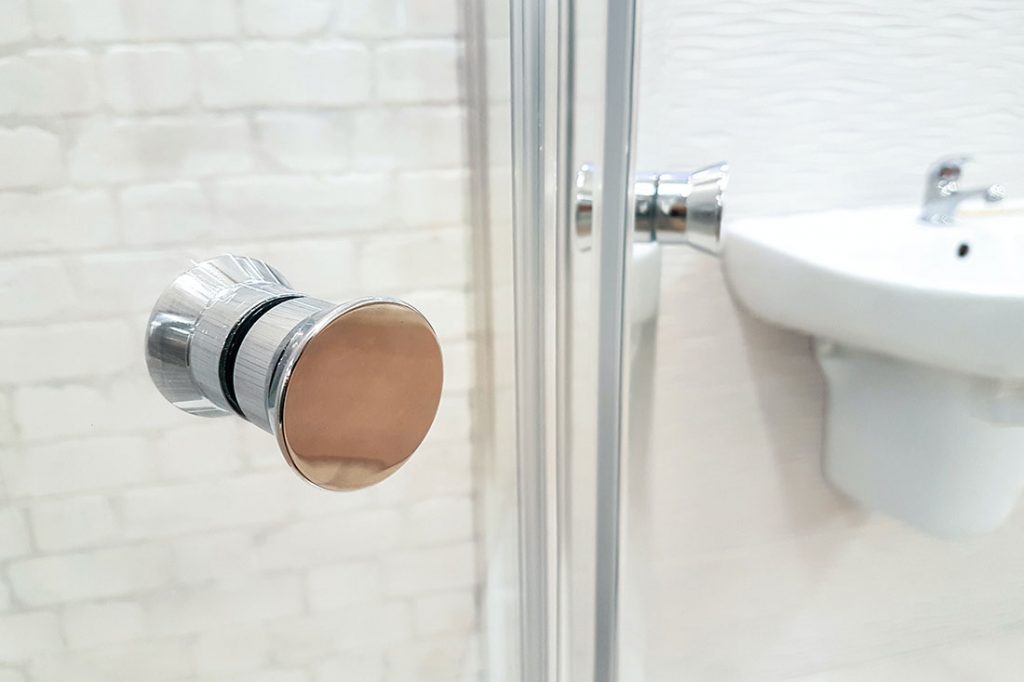 Depending on the exact shower dimensions, a different type of screen may be better suited. Again, there are a variety of options here. The screens can be framed, semi-framed or frameless. Equally, doors may be sliding or pivoting.
This would suit most modern bathroom configurations and works well as a corner shower, allowing for the best possible use of space. A go-to for the popular three-quarter bathroom layouts.
The cost for a standard shower of minimum shower size at around 760mm width would be between $500 and $1,500. Installation within Australian capital cities will cost between $35 and $80 per hour.
Walk-in shower
As the name indicates, a walk in shower allows the user to walk in. These showers do not tend to have doors, although they may have a screen which acts as a partition to stop the spray from affecting the entire bathroom.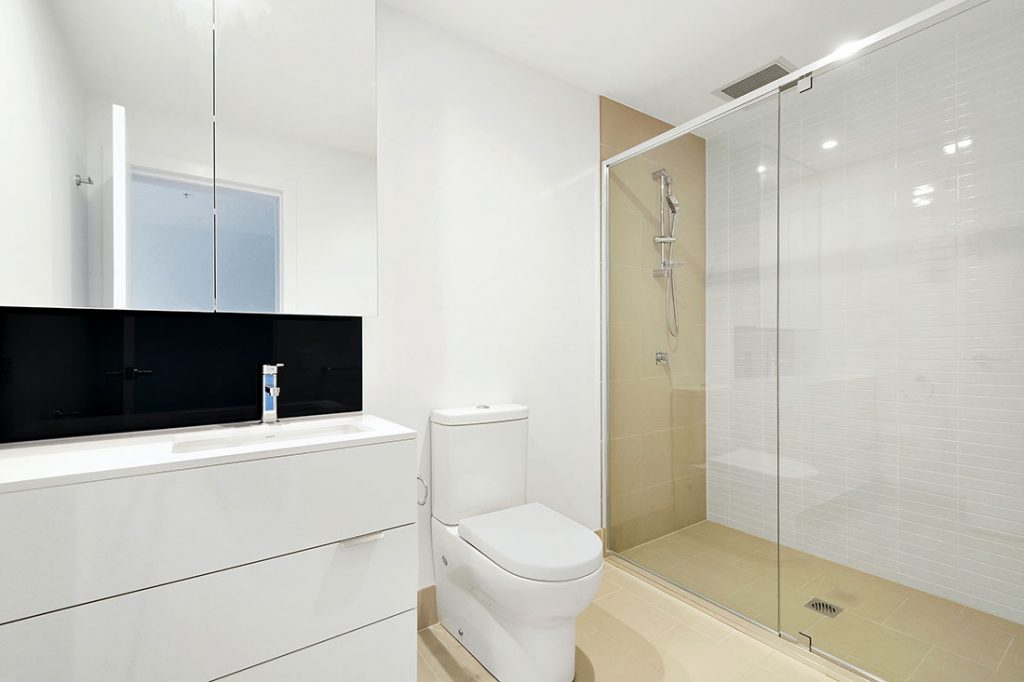 Walk in showers are viewed as more of a luxury product and therefore have bigger dimensions than standard showers. The minimum size for walk in shower Australia is 900mm x 900mm. But while walk in shower dimensions indicate a minimum shower width and depth, these showers are very often larger than that. In general, a standard walk in shower size tends to be 1000mm width and 1800mm depth.
Costs for a walk in shower in Australia can vary greatly depending on size, fixture and labour costs. A walk-in shower that doesn't have a door can be a cost-saving exercise with a variety of more elevated set-ups ranging anywhere from just under $1,000 to upwards of $6,000.
Combined bath shower
Combined bath shower is a great way to combine the luxurious feel of a bathtub – with the convenience of a shower. More often than not, the shower is mounted above the bath and the user showers inside the bathtub. Shower curtains or – more modern – transparent shower screens are installed to protect the water from spraying over the rest of the space.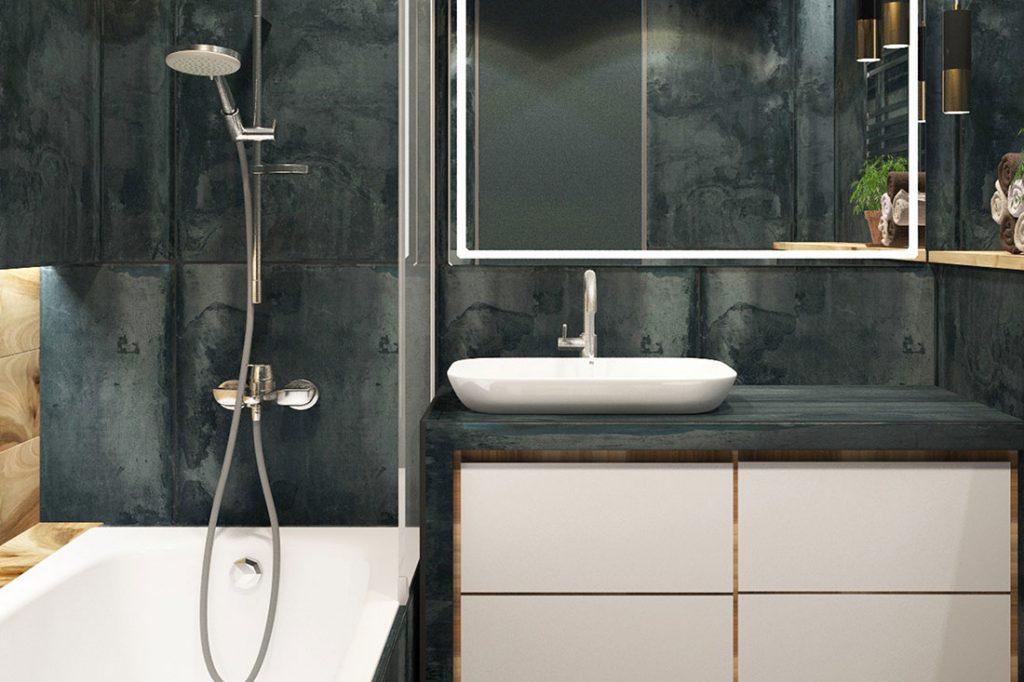 While a standard bath has dimensions of 1500mm to 1750mm in length, 750mm in width and 450 – 500mm in depth, the minimum size for a bath is approximately 1400mm in length and 650mm in width. The shower curtain or shower screen is installed alongside the length of the bath, often going half way its length to ensure the occupant can go in and out of the bath easily. Apart from a fixed screen, a combined bath shower can also feature a screen on a hinge or a fold-out panel for flexibility, accessibility and comfort.
The shower can be added to a bath at any point – and in most cases, it can be added to any bath, including a free-standing one, or built from scratch. This combination is a space-saving and practical solution for various bathroom dimensions and is a smart choice for households with children.
The prices vary based on the type of combined bath shower. They start at a price-point as low as $150 for a screen shower door that can be added onto an existing bathtub, while a fully built out combined bath shower can cost $1,500 and more.
Double shower
There is no doubt, double showers are growing in popularity amongst homeowners who have enough space to accommodate them. With minimum double shower dimensions around 1600mm x 1000mm, a double shower is a perfect option for bathrooms with ample space, with standard shower size Australia being closer to 2000mm x 1500.
Double showers tend to have two shower heads which allow for more than one person to shower at a time. Because of their sizing, double showers work well in spacious bathrooms where the double shower can be a focal point from a design point of view. It's a popular choice for a master bathroom.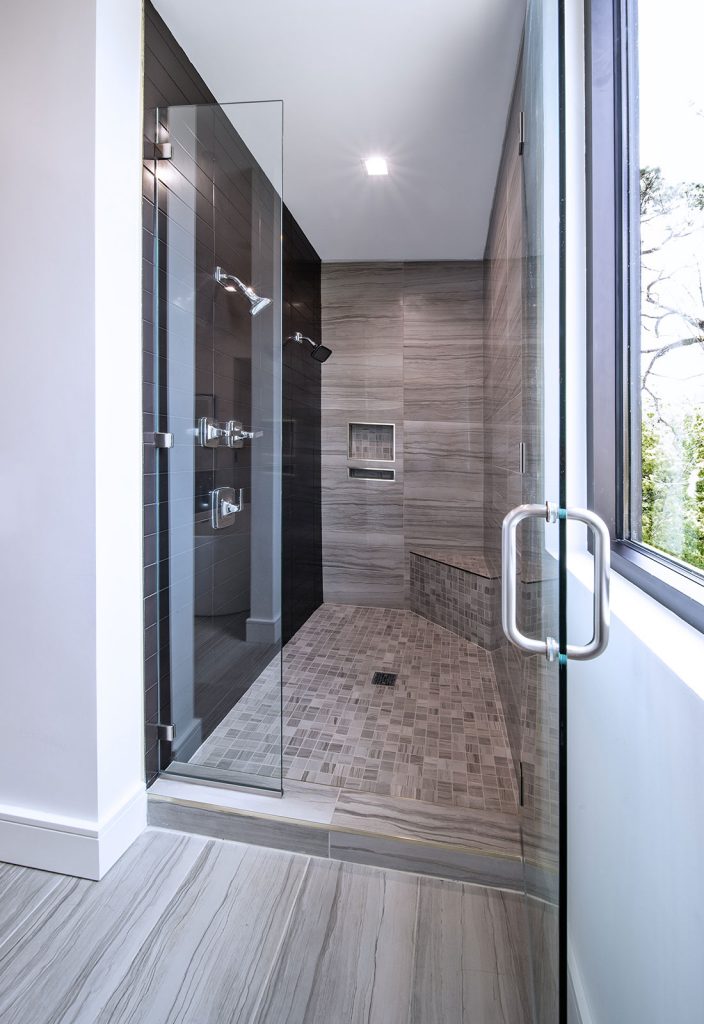 While equipping the double shower might be more expensive than a standard shower for the simple reason it tends to have double the number of fixtures, the double shower sliding doors start at roughly the similar price-point as the standard shower with screen – $700.
Ensuite shower
In modern Australian homes, ensuite showers are commonly known as the 'master showers' – as part of the 'master suite', which consists of the master bedroom and ensuite bathroom. Master showers are generally only found in larger residences that are able to support multiple bathroom spaces.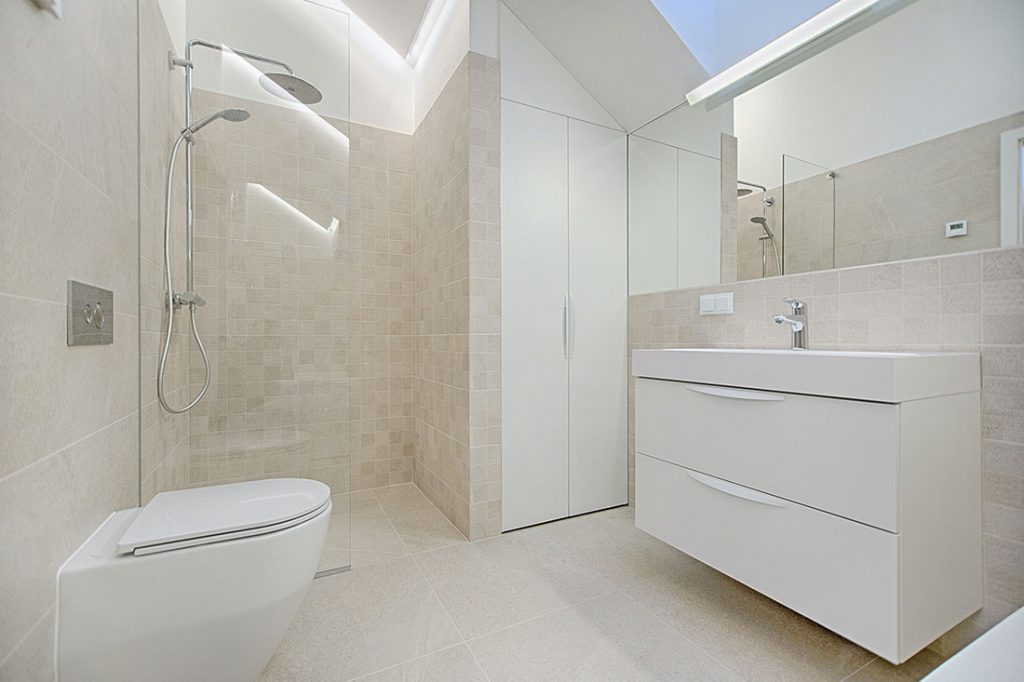 Master shower dimensions – as with all showers – vary depending on the type of residence and available space but. In general, the average shower size of an ensuite or master will be more grandiose and therefore larger than a standard shower.
Master showers are considered more of a luxury item and are therefore commonly tiled, with glass screens, more expensive fittings and additional features like shower niches and shower benches, offering an ultimate reprise from everyday life.
A master shower should have a width of no less than 950mm, and will generally have a depth in excess of 1100mm. However in bathrooms where space permits, it is common to see master shower dimensions up to 1200mm x 2400mm. Quite often these are double showers – and based on their dimensions, they come at similar prices starting at around $700 for a basic set-up.
Built-in base shower
Built-in base showers are complete shower units with an installable prefabricated shower tray base. To install the base of the complete shower units, waterproofing must be pre-applied to the substrate and the waste pipe must already be fitted through the floor. The location of the waste pipe will determine which model of the shower tray is suitable. The tray can then be fixed in the right place with adhesive and fully sealed to prevent water damage.
Shower trays may come in rectangular, square or quadrant shapes and the standard shower base sizes can range from 800mm x 800mm up to 1100mm x 1100mm, but it is uncommon to see bases of larger size as these are generally intended to be compact and more budget-friendly options. Standard shower pan sizes may be as small as 760mm x 760mm, however, this is not very common in Australia.
Practical and economical, built-in base showers range in price from around $350 up to the $1,000 mark.
With the variety of available types of showers, there's one for every bathroom – and opportunities to customise are endless. However, are standard sized showers cheaper than custom-sized ones?
Standard shower vs customised shower: which is cheaper?
It is generally cheaper to buy a prefabricated shower and screen that offers standard shower dimensions. However, these may be of variable quality and will often feature minimal design options to contribute to the overall visual appeal of the space.
It is more expensive to install a shower with custom shower dimensions, however, these will provide more design options that may be desirable. A custom shower allows the use of tile to match or complement the rest of the bathroom, along with a number of choices in design, such as screen type or shape, variable sizing and a choice of additional details such as shower niches, soap holders or handrails.
What additional details should be considered when choosing a shower?
Depending on shower dimensions, there are a number of additional features that can be incorporated as part of a shower fit-out that may make the space more functional or desirable. Their size and positioning are crucial in creating a comfortable and usable space.
The taps and the shower head
The most important parts of any shower – the taps and the shower head – do have what can be described as 'standardised positioning'. Generally, taps should be placed between 1000mm and 1300mm from the floor for maximum comfort for people of all sizes. The ideal height for a shower head, whether it's fixed onto the wall or is a rain shower, is 2000mm which allows plenty of space for people who are very tall – while still providing adequate water concentration for people who might be shorter.
Showerheads come in a variety of styles, sizes and functions, like the standard directional heads with a height of 240mm and diameter of 100mm – or the more luxurious rain showers with a diameter of 300mm.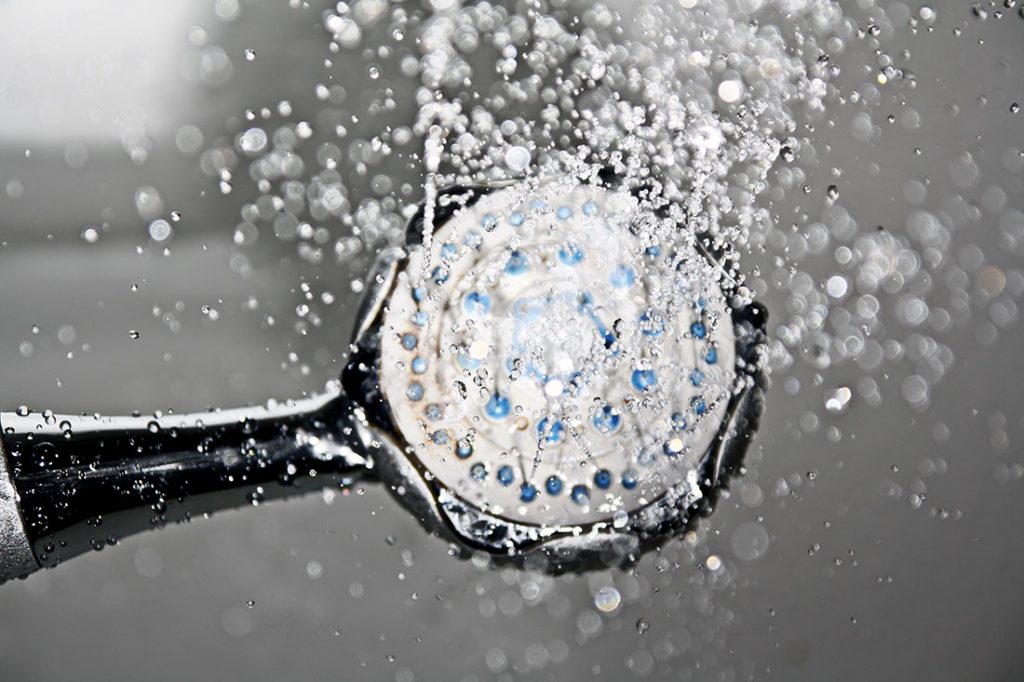 Shower niches
Shower niches are countersunk shelves that sit in the wall of the shower and are becoming increasingly popular because they do not take any additional space – and they enable a more streamlined and modern look. Size-wise, shower niche height should be between 900mm and 1500mm off the floor, in order to make the shelf convenient for reaching shampoos and various bathroom accessories.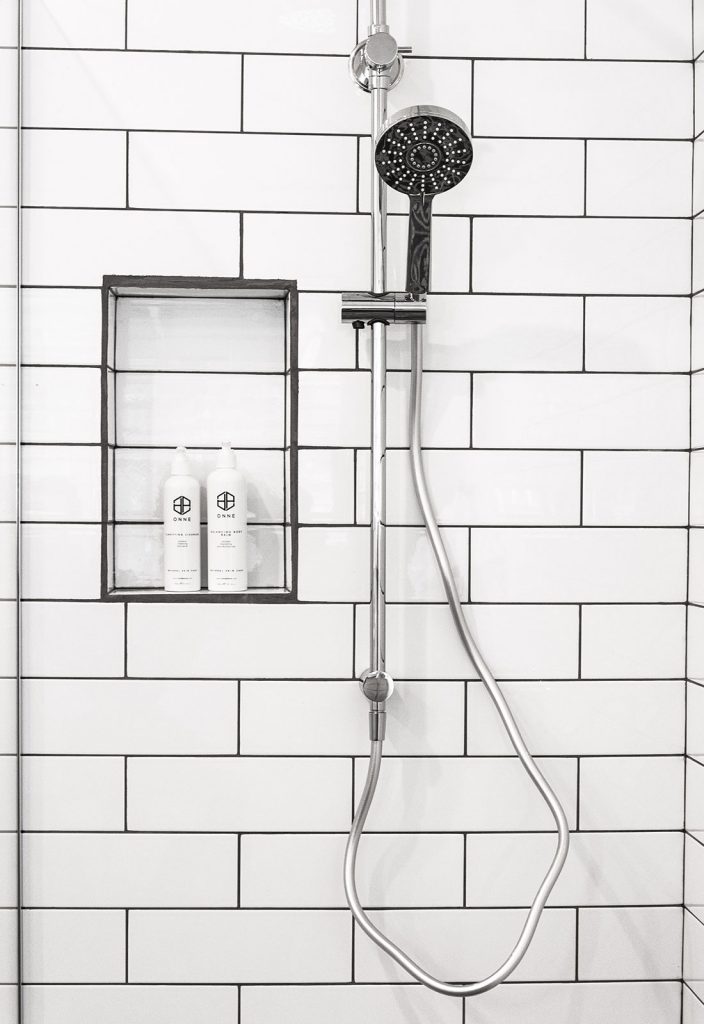 Similarly to the overall shower dimensions, shower niche sizes can vary and are mostly influenced by the shape and of the shower – and shower width. A narrow shower may have a niche that is 300mm wide and anywhere up to 1000mm tall if it holds multiple shelves. A wider shower may have a niche that runs 1500mm wide but only 400mm tall. For average shower size, a niche of approximately 360mm x 410mm is generally recommended.
Soap holders
Soap holders are generally installed on the shower wall at a height of between 1100mm and 1300mm from the ground. In most cases, this is a comfortable height for reaching without the need to bend over or stretch. Depending on the style of the soap holder, the average dimensions could be 150mm x 100mm and 50mm in height.
Some consideration should go into the location of the soap holder to ensure the soap holder is located somewhere away from shower spray to allow things to dry, and prevent premature soap erosion.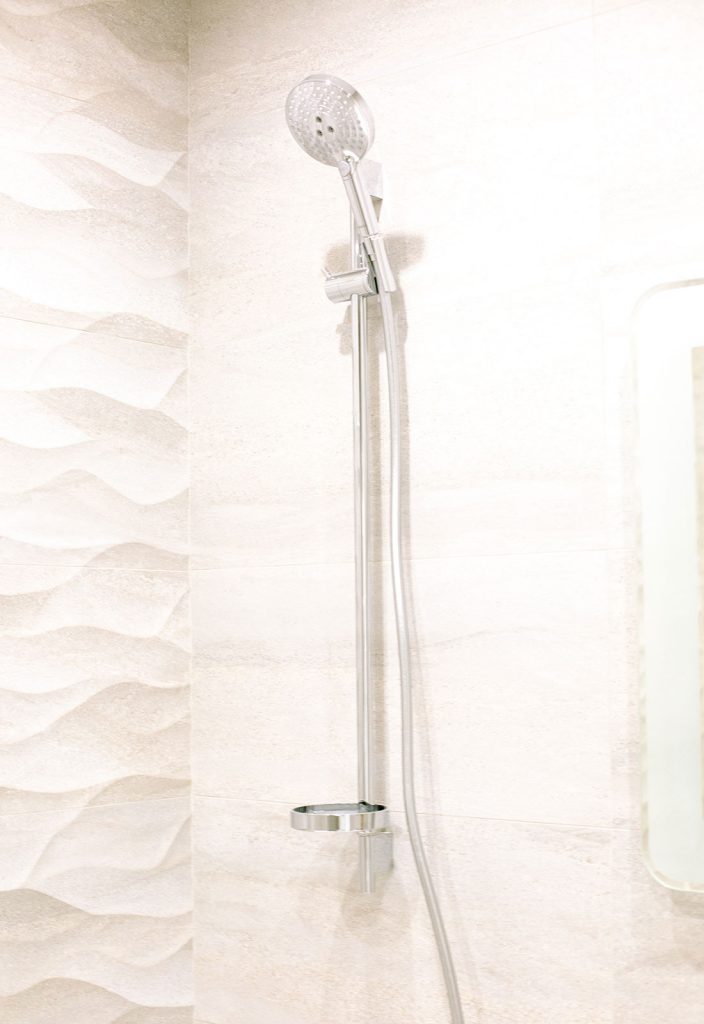 Grab rails
Alongside non-slip shoe mats, grab rails can be an effective way of minimising the risk of slips or falls in the shower space.
While most commonly utilised in situations where users are elderly or have restricted mobility, grab rails can be a good idea for people of all levels of mobility. Ideally, a vertical rail should be positioned close to the shower entrance as this is where falling is most likely to occur. For added comfort and safety, there may also be a need for a horizontal rail which runs along the wall or walls of the shower. In both of these instances, a height of 1000mm is a good guideline for comfort and accessibility.
Australian Standards recommend for the outside diameter of a grab rail to be between 30mm and 40mm. When it comes to length, it can be customised depending on the needs of the user and the shower dimensions but the standard lengths range from 300mm and 450mm to 600mm and 900mm.
Shower bench
While they may clutter things up, when used in the average shower size of 900mm x 900mm, a shower bench can be a helpful and convenient utility for those with reduced mobility – or a pleasant added luxury for those who like to relax in a shower while sitting down.
Generally, a shower bench will be used with a hose-type shower and placed outside the direct stream of the showerhead – though near enough to be used with the hose. Shower benches should sit roughly 450mm-490mm off the ground to be most comfortable and work within the overall design of the shower. Shower bench dimensions can vary depending on the size of the shower, but they should be at least 400mm deep to ensure maximum comfort.