Whether you're designing a brand new ensuite, thinking about remodelling your washroom or updating the guest powder room, these modern bathroom ideas will stimulate your creativity and inspire you to create the perfect modern restroom.
Designing a brand new ensuite? Thinking about remodelling your washroom? Or perhaps, making plans to update the guest powder room? From bathroom layout ideas, a selection of modern vanity types to décor inspiration ranging from the simple luxury of mid century modern to modern country – here are some of the best modern bathroom ideas popular in Australia to stimulate your creativity and provide the help you need to create the perfect modern restroom.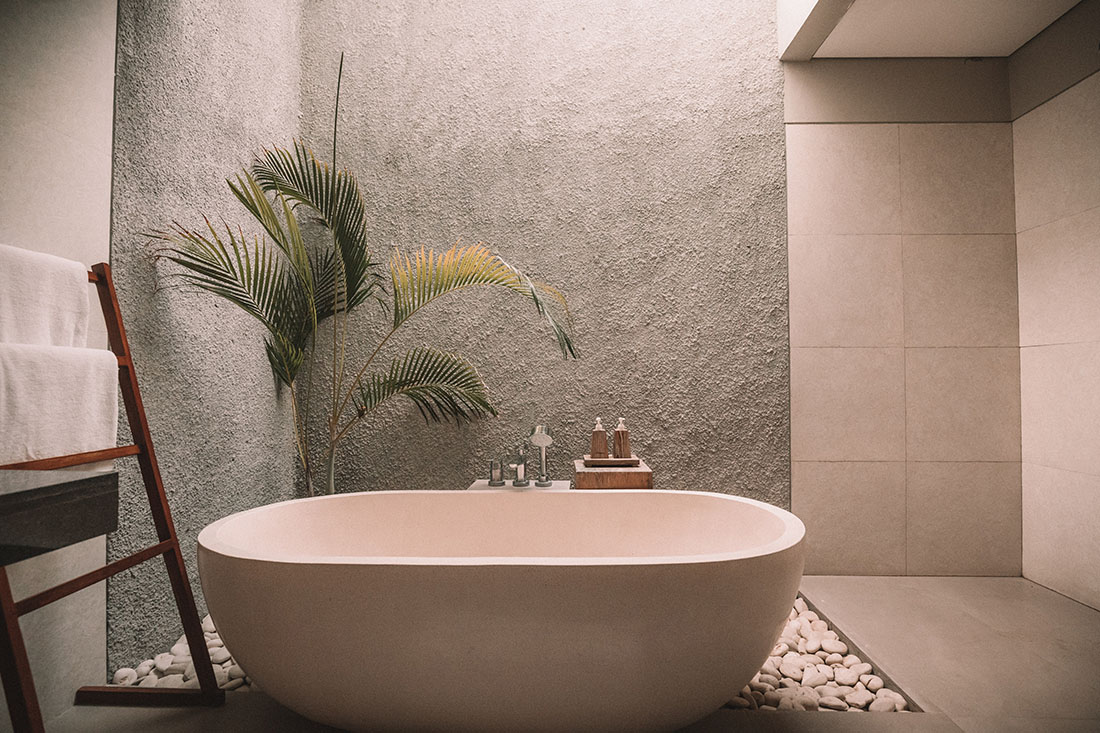 What makes a bathroom modern?
With functionality underpinning simplicity of form, modern bathroom designs make for a clean, practical and timeless interior. Expressed through choice of natural materials – such as stone, leather and wood – neutral colour palette, clean lines and streamlined silhouettes, modern design pays homage to a practical and minimalistic aesthetic, making it an excellent option for a functional yet stylish bathroom space – and one of the most popular choices for contemporary bathroom ideas.
Modern bathroom layout solutions
Just as important as the choice of materials, finishes and colours is the layout of the space. Whether your bathroom is on the smaller side or offers ample space, modern design is the way to go – and a variety of bathroom layout ideas will help achieve a beautiful place of relaxation, respite and luxury.
Keep it simple. From uncomplicated modern vanity designs and unpretentious modern toilets, to modern bathroom cabinets and minimal walk in shower ideas – with an array of widely available products offering clean lines and streamlined shapes, achieving a simple yet impactful modern look has never been easier.
Keep it open. This feature of modern design can make the bathroom space feel more spacious, elegant and more comfortable to utilise.
Keep it clean. Clever storage solutions are crucial to creating a good flow in the washroom. Sleek-looking modern vanity designs and modern bathroom cabinets are cleverly designed to keep the clutter hidden away.
Keep it functional. When designing a bathroom, remember to keep functionality of the layout top of mind. Whilst a bathroom should be a place of beauty, it has a very specific function – and it has to be freely accessible and easy to use.
Keep it green. Favoured by modern design principles, plants are an easy way to add a bit of charm to the washroom. Plus, they are also a convenient way to break-up the often clinical bareness of a modern space.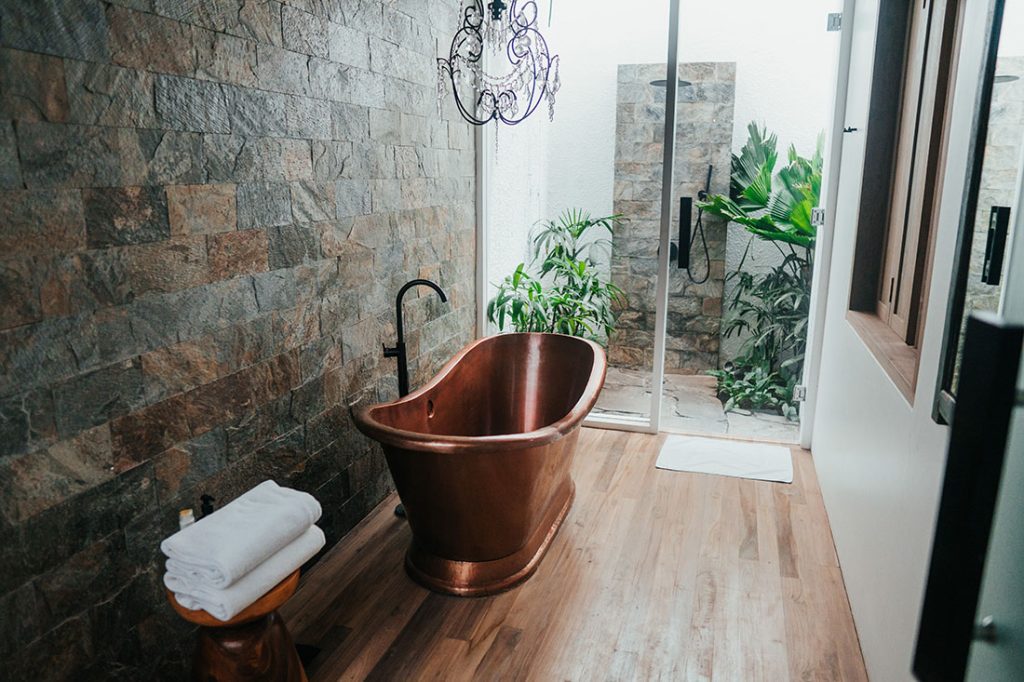 What to avoid
In order to maintain the clean and streamlined modern look, there are a few things worth avoiding.
Clutter is a no-no in a modern bathroom. Whether it's decoration overload or unorganized bathroom contents, clutter takes away from the clean features of modern design.
Similarly, antiques and ornamental furnishings, textures and materials will go against the simple and functional aesthetic.
Too much colour. While a small splash of colour can liven up the space, characterised by their toned-down palettes and monochrome colour themes, modern bathroom ideas are unlikely to burst with colour.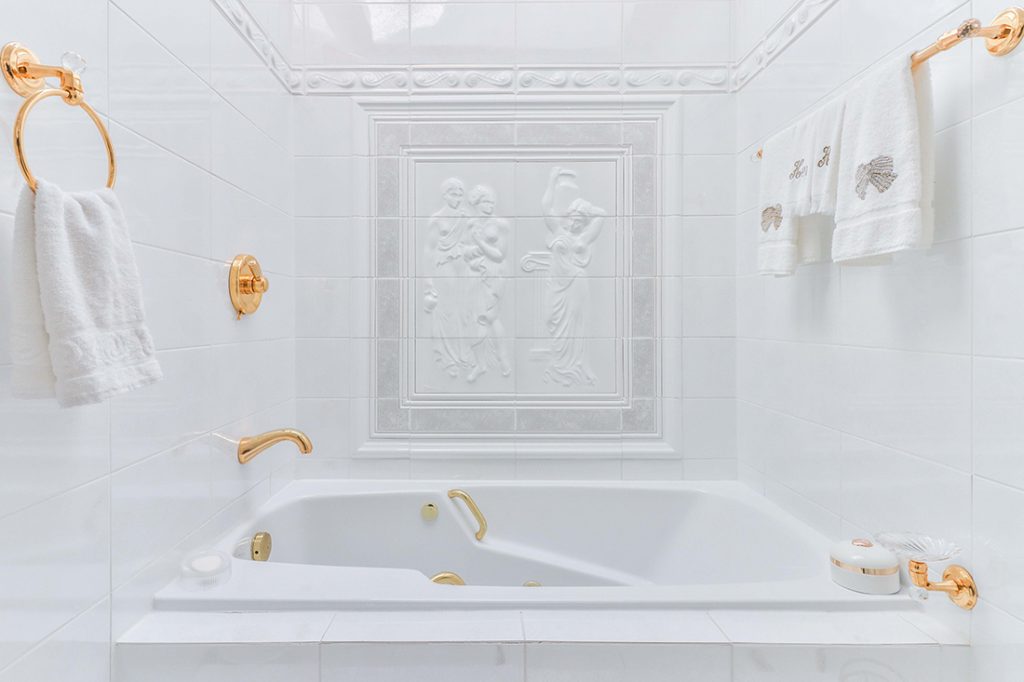 What's the difference between modern and contemporary designs?
It's worth adding that in spite of its distinct characteristics, the modern style is often confused with contemporary design.
While both styles favour simplicity, minimalism and neutrality, modern design refers to a specific time period between early and mid-twentieth century, and contemporary design encompasses the ever-evolving styles and trends of the current moment in time which makes it, by default, much more ambiguous. Contemporary bathroom ideas often borrow from modern bathroom designs as one of the most pertinent styles to influence the current design trends.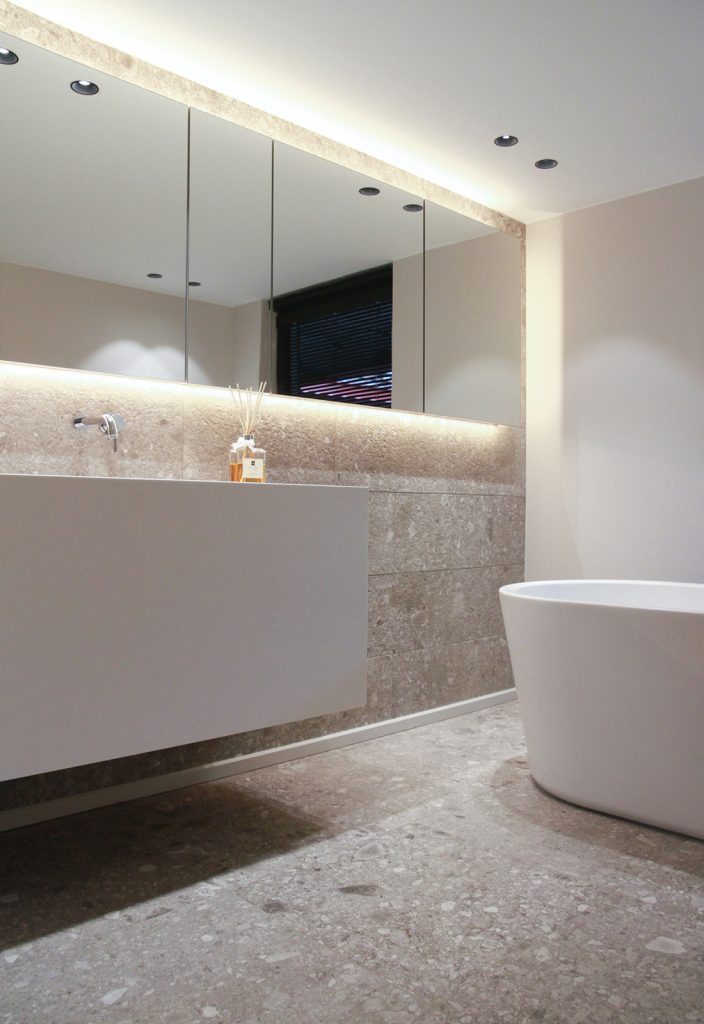 Modern bathroom designs
If modern design sounds like the best style for your bathroom, here are some modern bathroom ideas that will help incorporate that style no matter if you're designing a whole new washroom or planning on doing modern bathroom renovations to an existing space. Accompanied by a wide selection of images, they will make it a breeze to envision some of these ideas in your own home.
• Open plan modern bathroom
When it comes to bathroom layout ideas, open plan layout is an excellent way to create a streamlined, uninterrupted flow – a true signature of modern design. A frameless shower screen is a perfect way to achieve that flow. It works well both in larger bathrooms and smaller washrooms, making it the staple of modern small bathroom design and a popular inclusion in modern ensuite ideas. In Australia, renovating a bathroom to create a better flow can range between $5,000 and $25,000 or higher, depending on the extent of changes.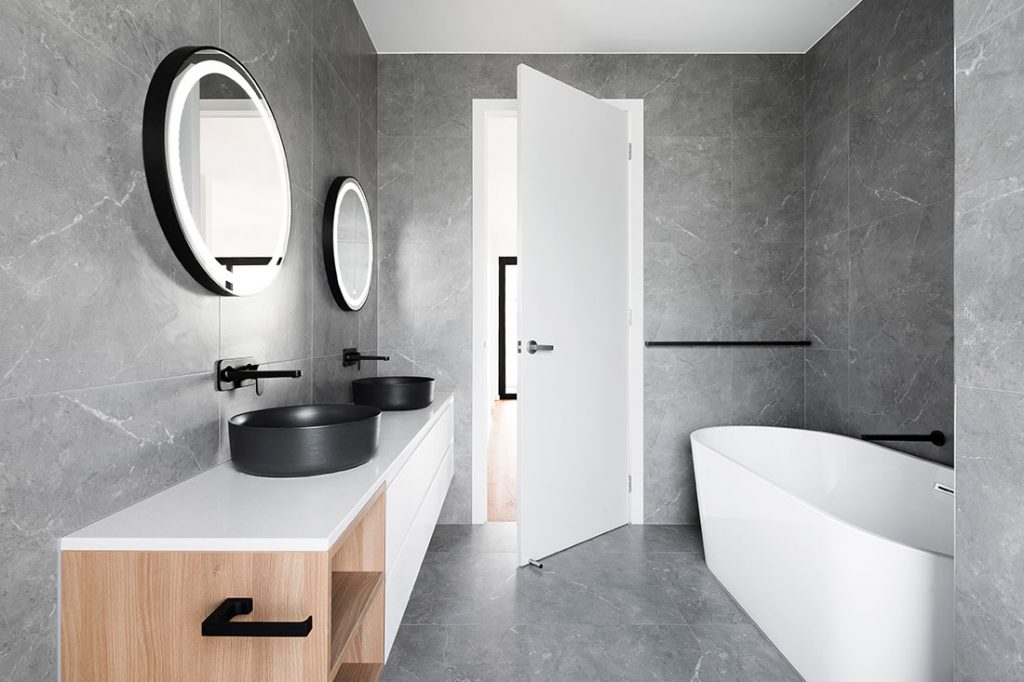 • Modern bathroom hide and seek
Another way to keep the bathroom open – and the overall look and feel simple in line with modern design principles – is clever storage. When it comes to bathroom storage ideas, a shower cubby will provide a sleek way to keep the shower area organized; neat cabinetry will give you ample space to put things away from as little as $150 – and you can install a toilet with concealed cistern from around $300 for the ultimate clean look.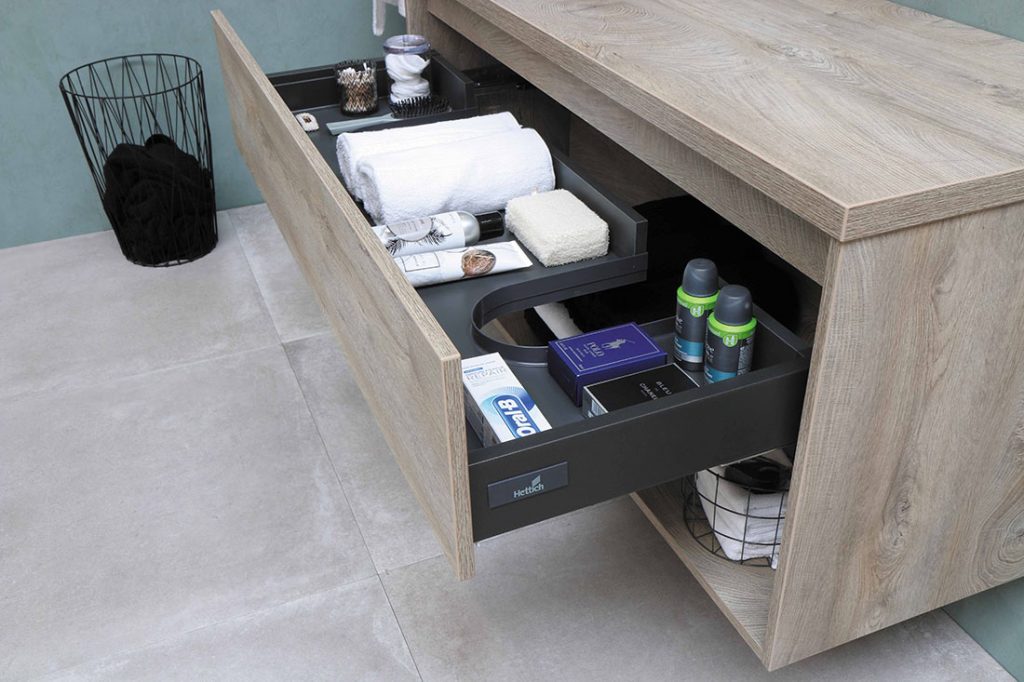 • Strong horizontal and vertical lines
Emphasizing horizontal and vertical lines is an easy way to highlight the geometric shapes associated with modern bathroom designs. There are a variety of ways to incorporate them – whether you are remodeling or building a new bathroom from scratch you can combine contrasting black grout with a classic white tile, update the vanity with simple long black handles – or install a black-framed shower screen. Simple updates from around $100 can easily create some linear contrast.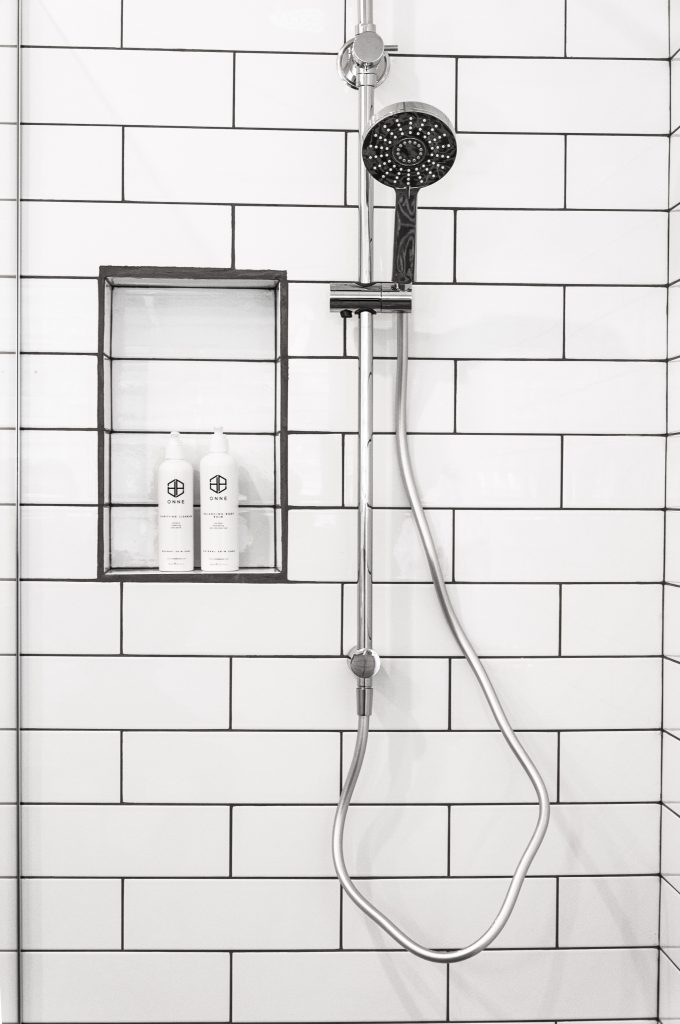 • Floating vanity – a modern staple
A list of modern bathroom ideas can't be complete without a floating vanity. Top choice when it comes to modern vanity designs, a wall-hung vanity helps maintain the signature straight lines of modern design – and keep the floor underneath decluttered. And at a price starting around $350, it's an affordable way to spruce up the space.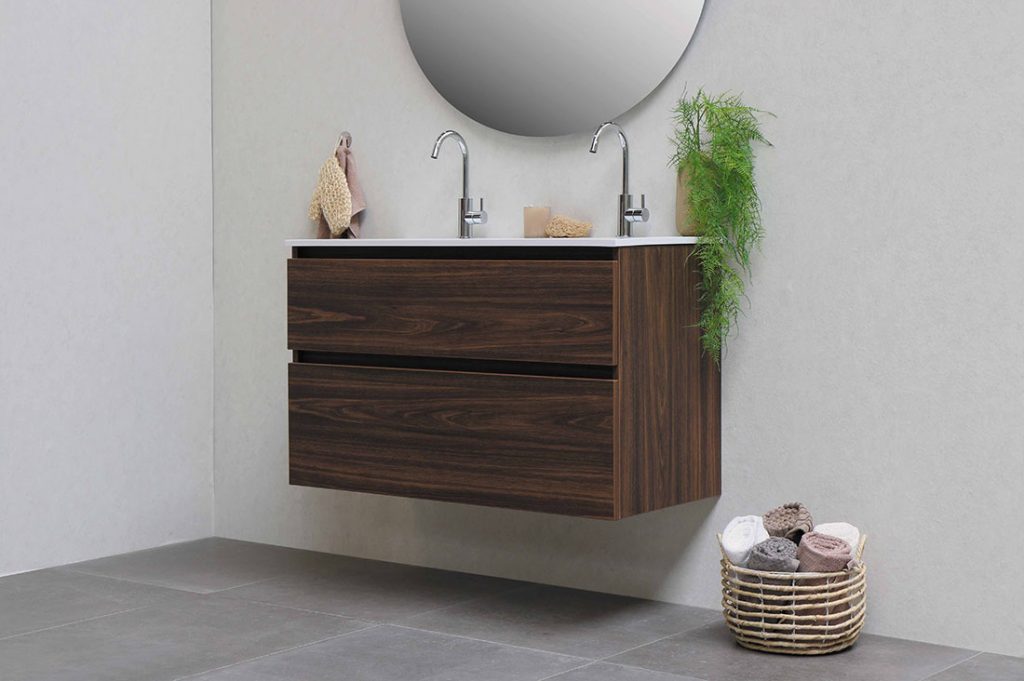 • Biophilic meets modern
Modern design favours natural materials – and wood is certainly one of the most popular ones. It's worth incorporating into a modern toilet space, a modern shower or even the modern bath area not only for its signature modern look but also for its biophilic qualities. A variety of modern vanity designs and modern bathroom cabinets feature wood or wood-like materials – like this simple single vanity  for just over $2,500.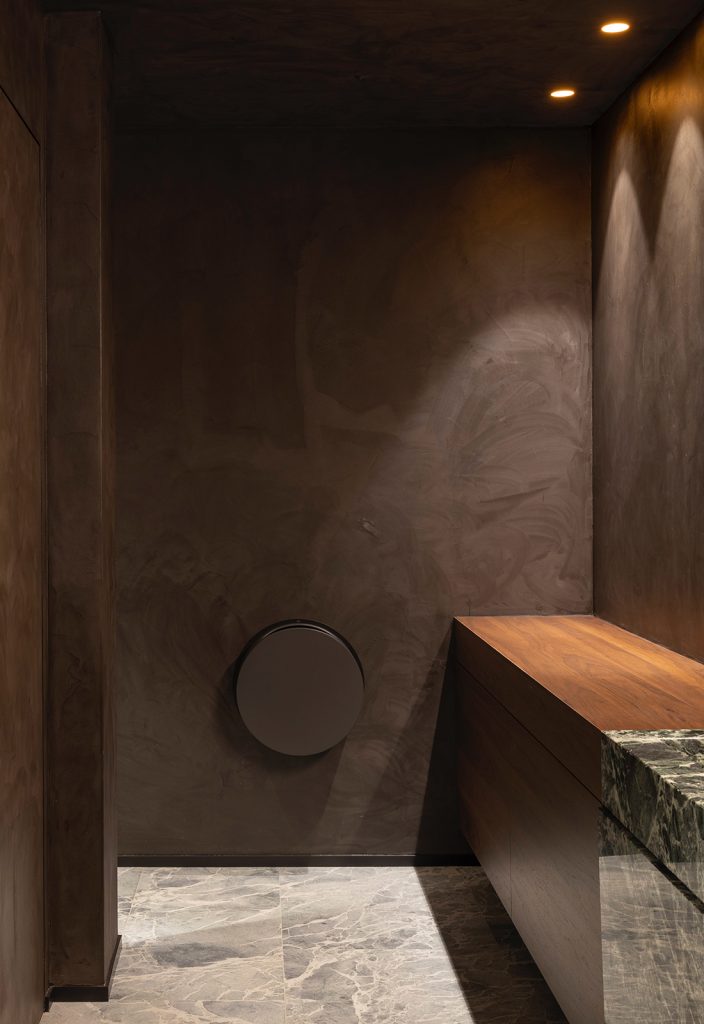 • Exposed concrete: modern goes industrial 
In the same way modern design embraces natural textures such as wood and stone, concrete is also a well-liked material to include in the bathroom space. Perfect for walk in shower ideas, concrete can add texture to a modern, neutral palette, for an average of $50 for grind and seal polished concrete per square metre.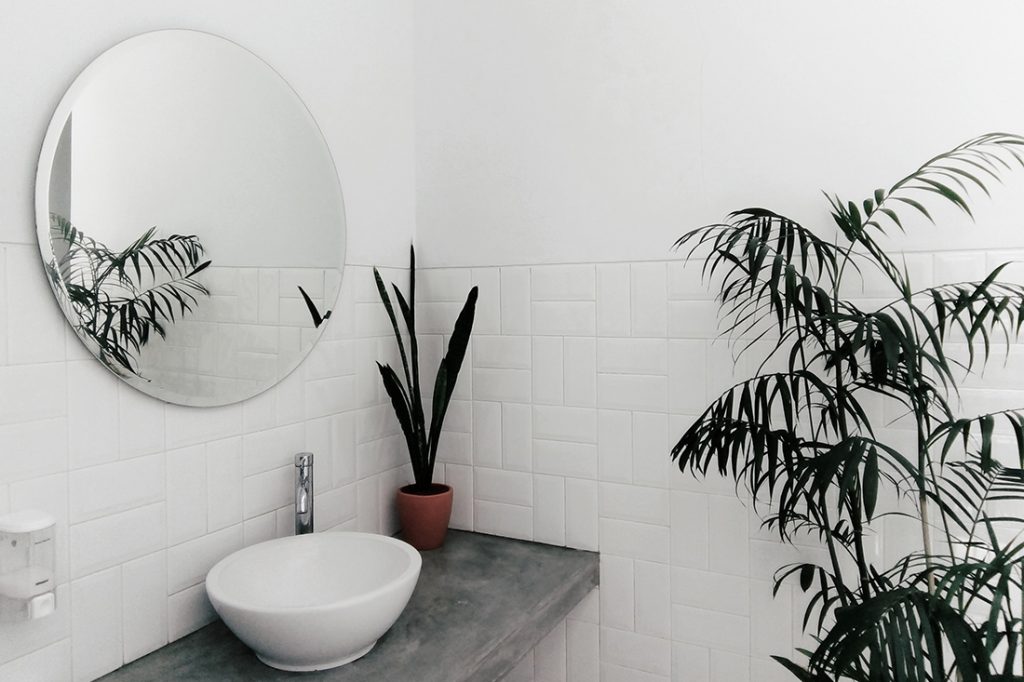 • All white modern bathroom
Modern bathroom design doesn't get more monochrome than this. While the choice of metallic fixtures can add a bit of visual interest, the elegant, simple and functional all-white bathroom offers a universal appeal and high end style. Whether you're looking at remodeling or building a new bathroom, you're looking at approximately $5,000 – $25,000 and above.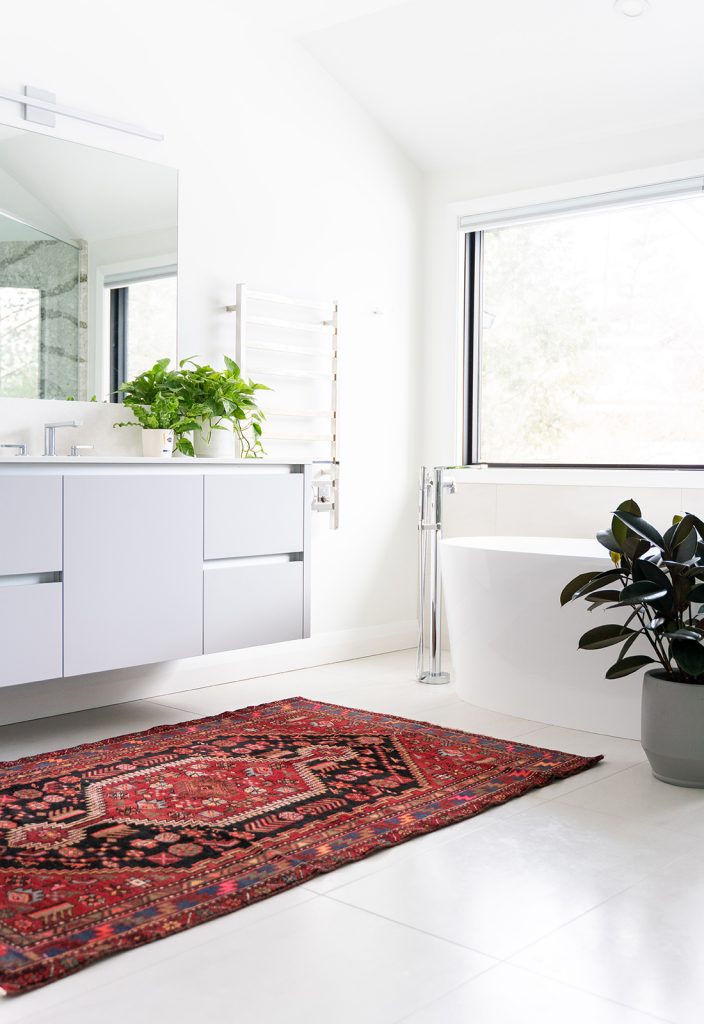 • Same same but different
With elements like open plan, uncomplicated forms, and a choice of natural stone and colour qualifying this space as a modern bathroom, a selection of cool, grey tones and soft brown markings of Elba stone in three different textures used along the floor, walls and double vanity adds character and visual interest. The use of different textures of the same stone provides visual continuity and an exquisite background to simple and inherently elegant white matt bathware. A perfect inspiration for a modern tiles bathroom.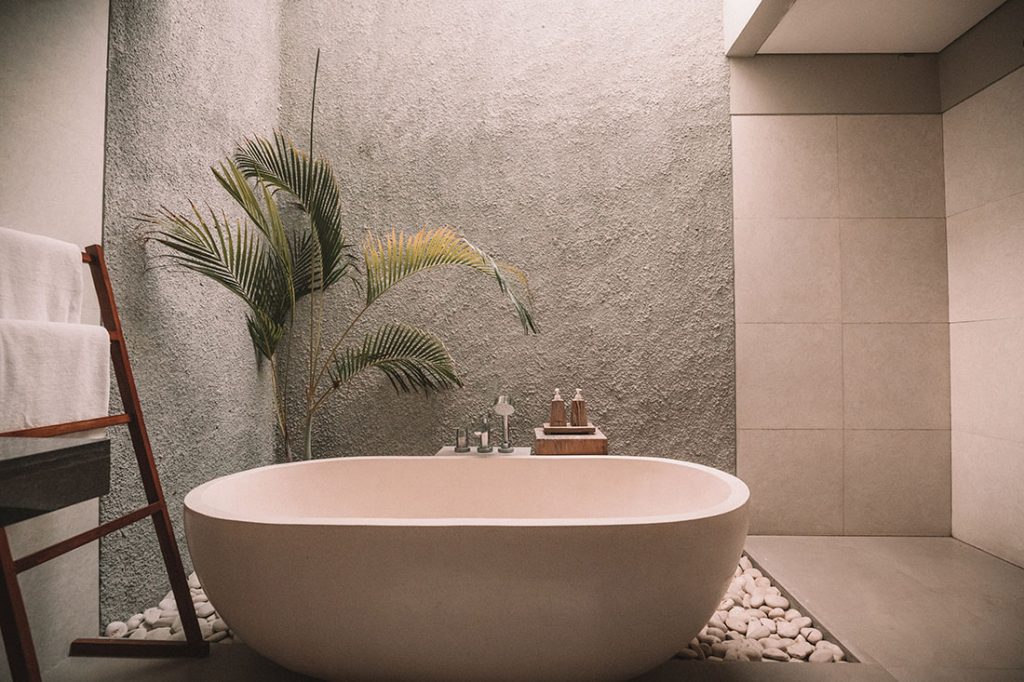 • Quintessential modern: mid century modern
The most popular era of modern design, mid century modern can easily bring a unique feel of the 50s and 60s into the bathroom space. Incorporating brass detailing, the right lighting fixture, opting for darker wood for the cabinetry and going with a statement tile – there are many elements that can help create a mid-century modern inspired washroom, starting with as little as $100 for a basic brass tap fixture.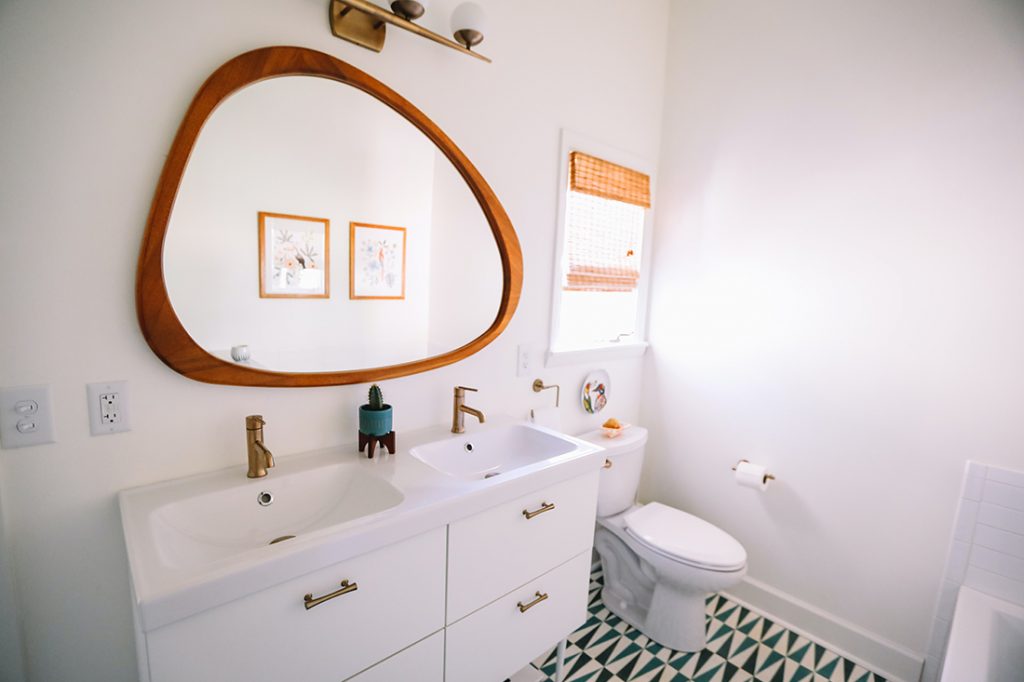 • Statement basin
While modern design is anchored in the more neutral color palettes, a pop of color – especially in a more subdued shade – can bring a more lively feel into the space. When it comes to modern bathroom sinks, at just under $1,000, this rectangular concrete sink maintains the modern geometrical shape, whilst injecting a slightly more contemporary touch with its rounded edges.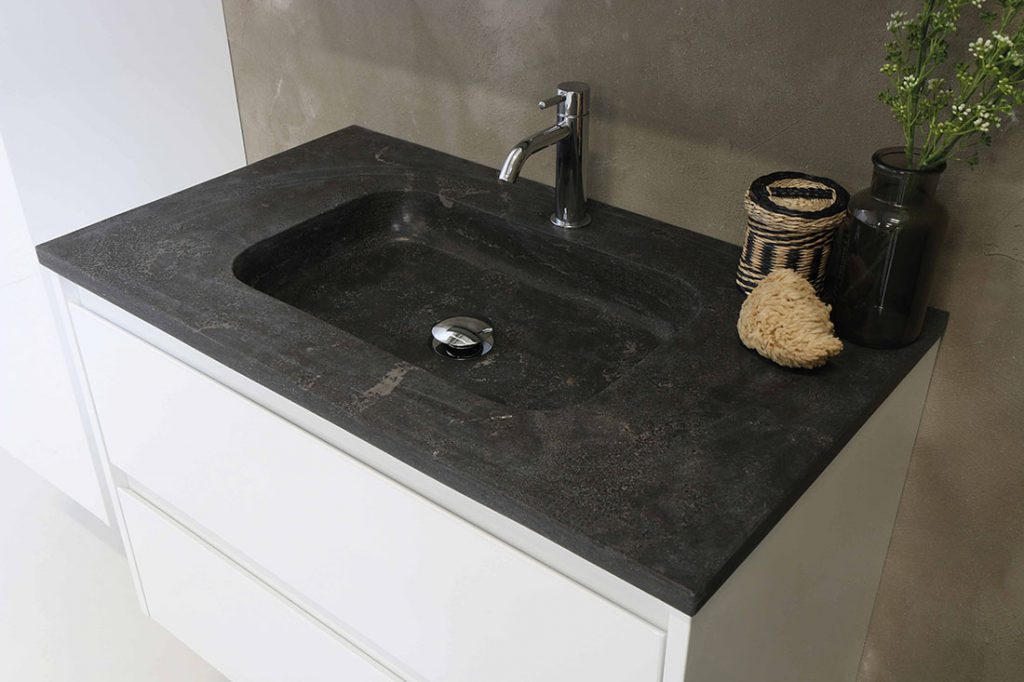 • Modern bathroom but make it country
If you want to take your bathroom into the countryside but would like to keep the modern simplicity of the overall design, modern country is for you. A combination of modern fixtures and elements like a modern bath or a white inset sink with farm-inspired exposed beams, wall paneling and hand-crafted timber vanities will help achieve the desired look. With panelling available at $60 per panel, the modern country transformation can be achieved without a major remodel.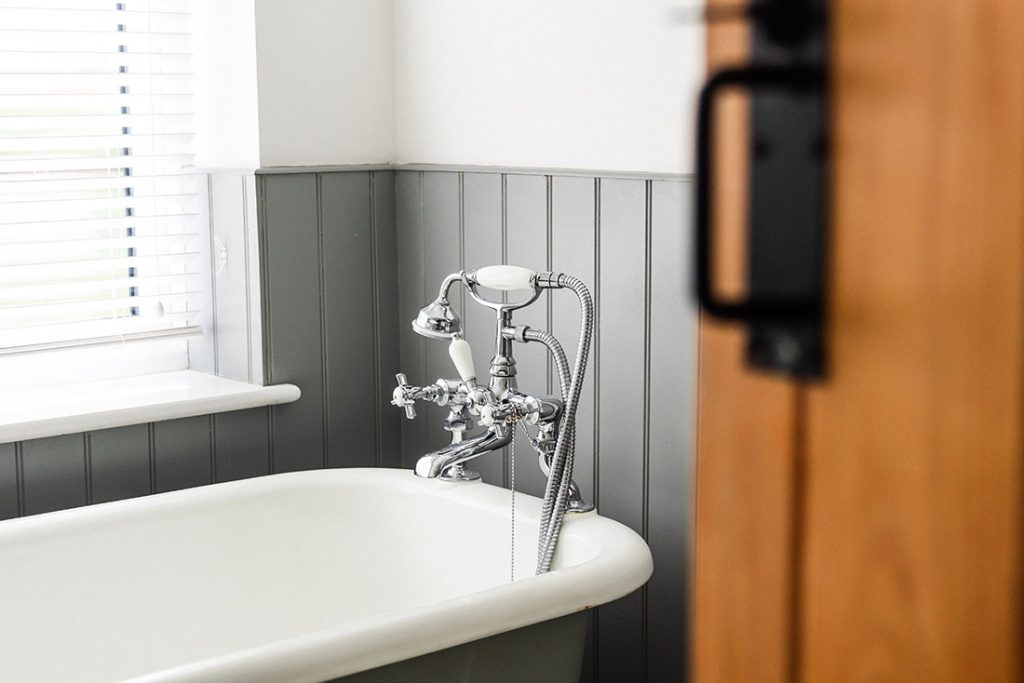 • Natural light
While there are many modern bathroom lighting ideas and types of fixtures that can help create the desired look, modern design is all about natural light. A huge floor to ceiling window can dramatically improve the overall experience and mood in any washroom – like this bright and airy one, featuring a semi-frameless silless shower. In Australia, the addition of a window into the bathroom can cost anywhere from $500 onwards – depending on size, materials and installation costs.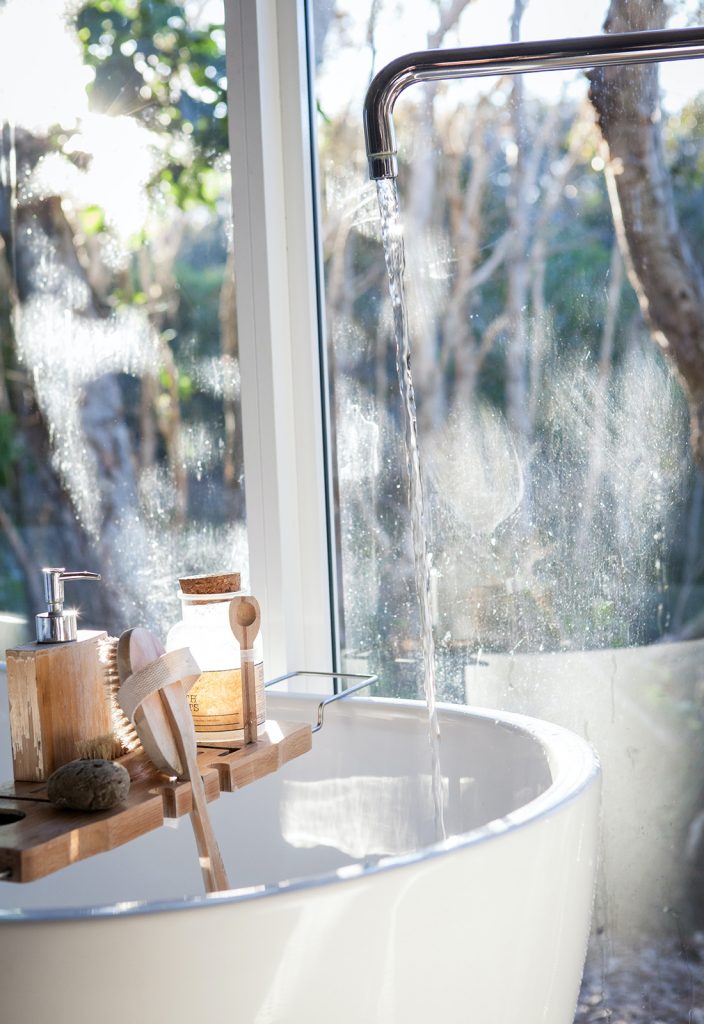 • Less is more: modern minimalism
A bathroom is a place of rest, relaxation and focus. The less clutter, the better. Aligned with the premise of modern design, the belief that less is more really shines through in modern bathroom designs – especially for smaller spaces, where every little bit of room matters. Frameless, barely visible shower screens, concealed storage, floating vanities and a neutral colour palette are great devices to achieve the ultimate minimalistic look.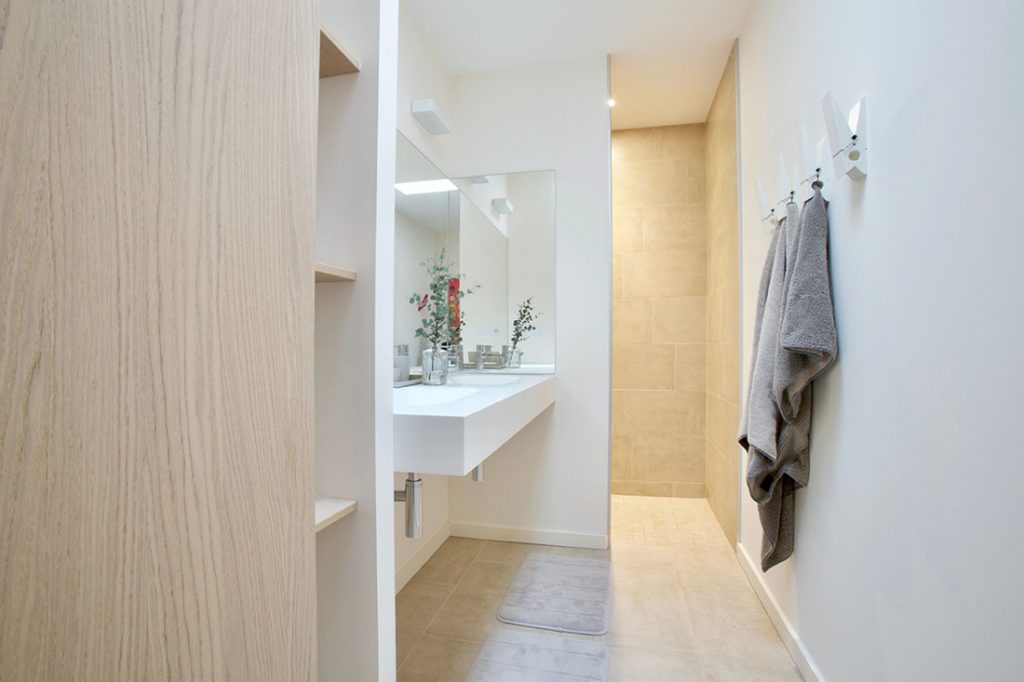 • The modern bathroom as a place to reflect
Modern design has a lot to offer when it comes to bathroom mirror ideas. From simple and classic rectangular designs to more imaginative geometrical shapes of the 60s – all the way to round mirrors that have a tendency to soften modern design's hard and pronounced lines, you can transform a bathroom with a mirror from as little as $50.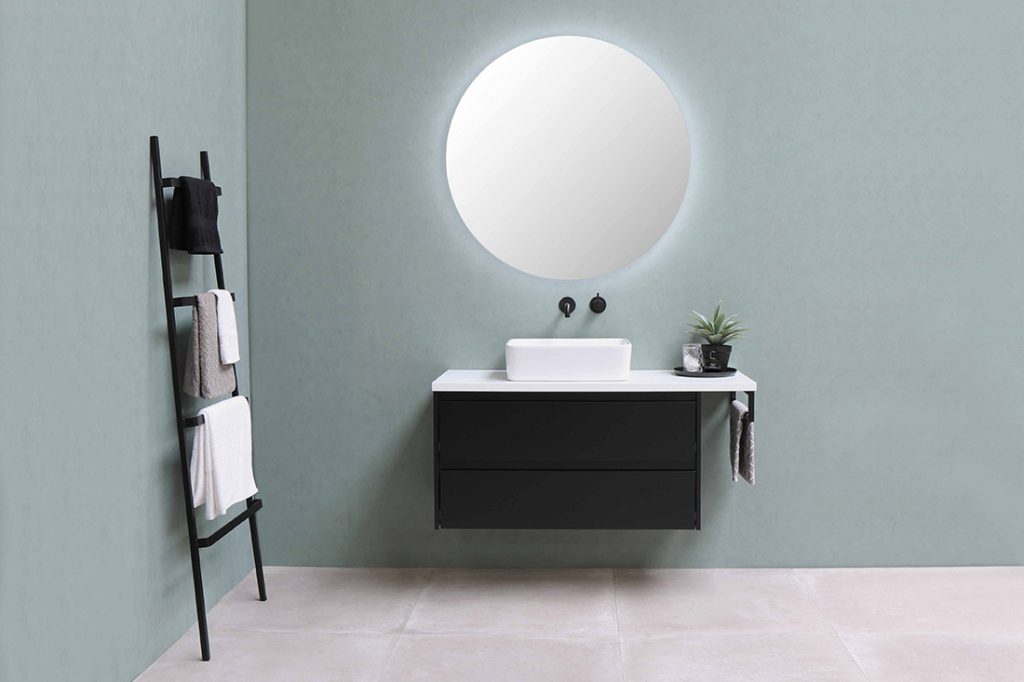 A modern bath
The ultimate luxury in the simplest form – very modern. While a freestanding bathtub in a modern bathroom should avoid the more opulent clawfoot, the positioning of a modern bath is less of a concern. It can be separated from the shower or form one wet zone – separated from the dry zone with a frameless shower screen. Alternatively, if there's no space for a free-standing bath, a shower and bath space can be combined behind a bath screen. Adding a freestanding bath will cost $600 upwords – plus installation.