A home that utilises its setting to maximum effect, the house is a family-ready expose on how to correctly intertwine unique surfaces and finishes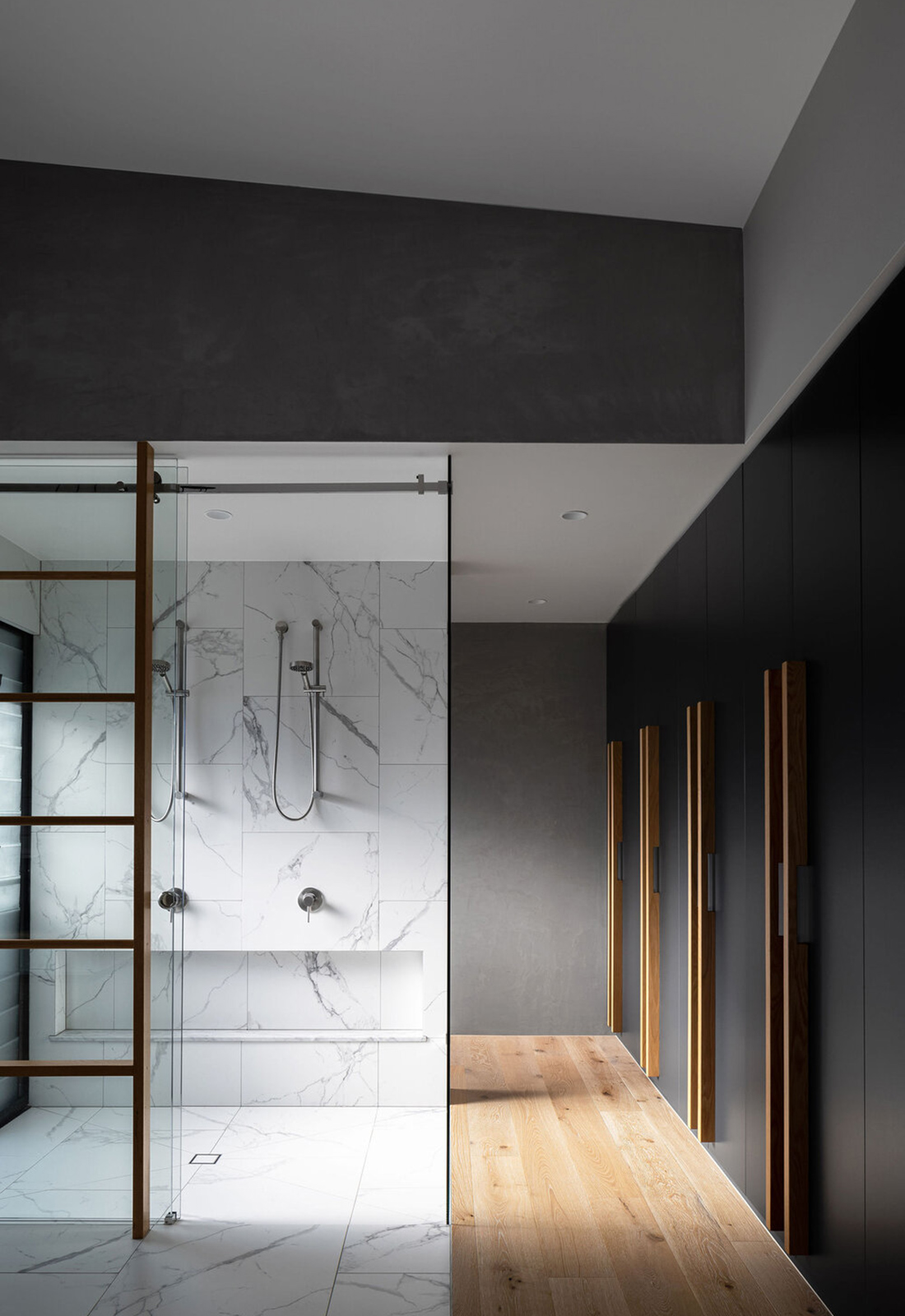 Set upon the sunny canvas that is Noosa on the coast of Queensland, the Pacific House by Gockel Architects is a two-storey seminar in practical, family-oriented architecture excellence. Juxtaposing finishes against one another, the house is zoned into specific areas, with each area featuring distinct qualities to its predecessor.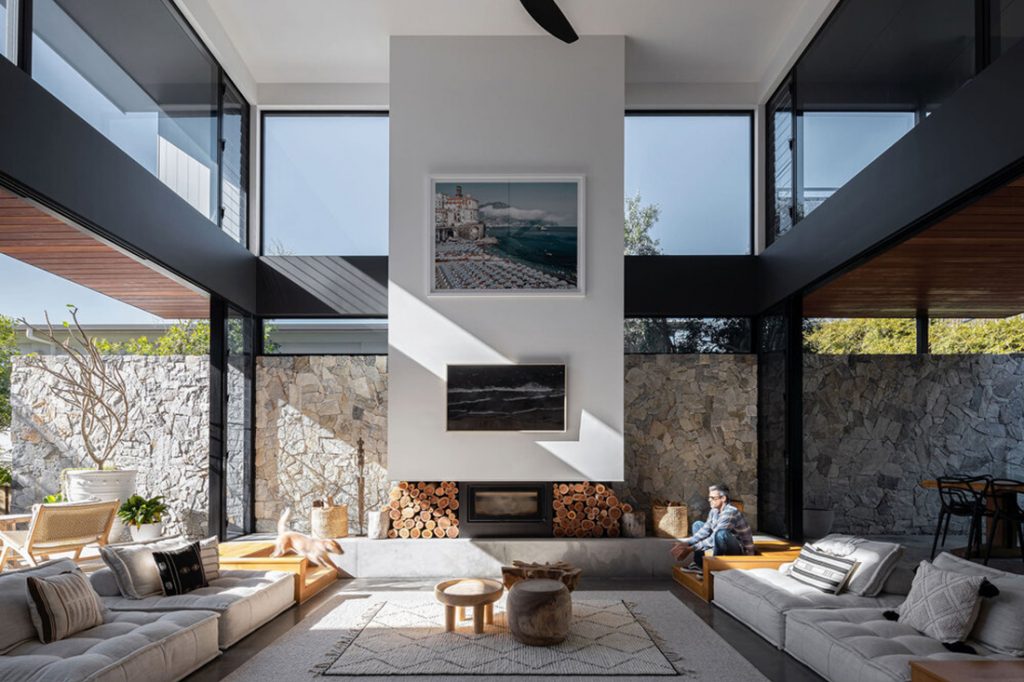 Covered by a sizable tree that sits behind the fence, the exterior is mostly concealed to the street it faces, playing a straight bat to onlookers. Inside however, is a different story. Upon walking through the front via an American oak pivot door, the house immediately grasps one's attention, namely due to the entryway dividing the house into two.
The main area of the house is an amalgamation of dining, kitchen and living areas. An open-plan masterpiece, the headline act of the area is easily the irregular napa rui wall that runs behind the living room and into the outdoor area, extending from a courtyard placed at the epicentre of the home to the pool area.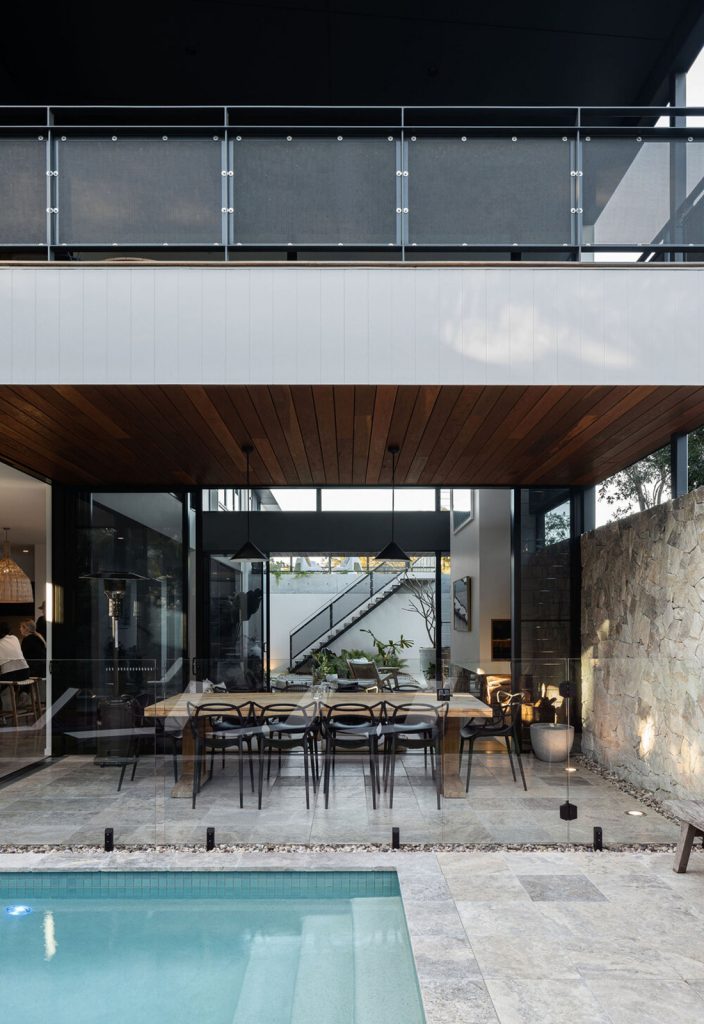 Gockel has been meticulous in their approach to colour palette and material selection. The children and parental bathroom suites reflect this particular approach, where the surface materials and tiles of the bathroom reflect the benchtop choices of the kitchen. The dark, modernist approach to the washrooms evoke a sense of elegance that is mirrored throughout the house. The benchtop of the vanities feature the marble first seen in the kitchen, but the cupboards of the vanity are of a wooden quality. This is congruent with the floor of the bathroom, that contains a tiled shower and immediate flooring area, but eventually transitions into wooden flooring away from the 'wet area'.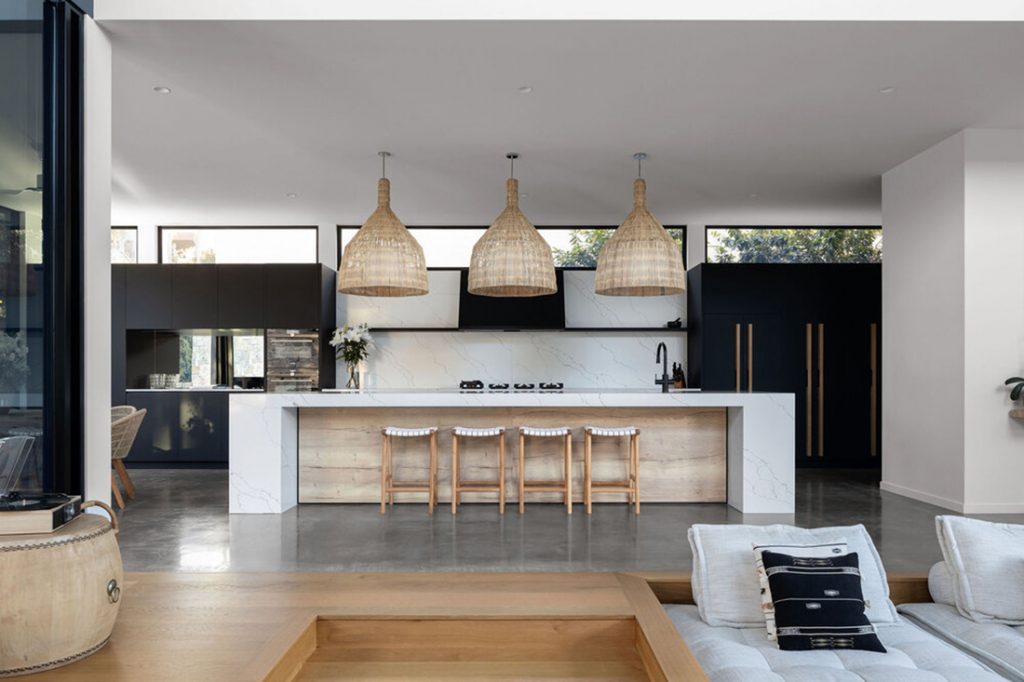 Chrome-finished tapware features throughout both bathrooms, and the walk-in shower and freestanding bathtub of the ensuite are a compelling feature of a parental retreat that instantaneously evokes a desire to relax.
The semi-frameless shower screen seen within both bathrooms is a key feature of the composition of the space. Large glass panels encompass the perimeter of the shower, allowing for a thinner finish compared to a fully framed screen, and thus drawing eyes to the tiled finishes of the shower. Both bathrooms are sophisticated yet practically designed areas that are spacious without being overly large, and extrusions are slim-line to ensure eyes are on the surfaces and finishes of the walls, floors and vanities.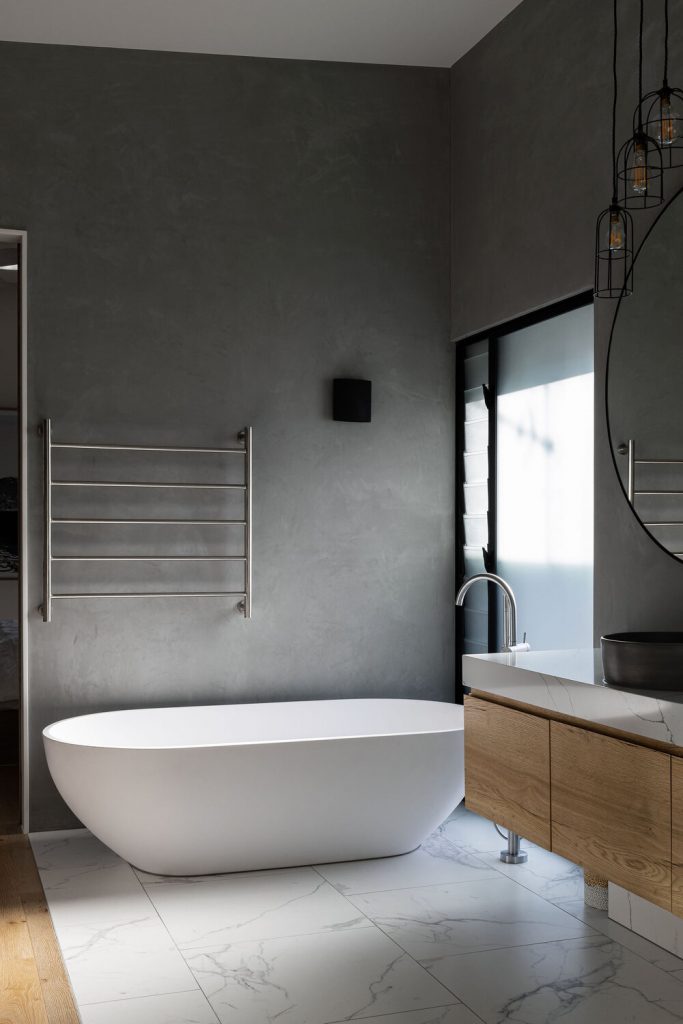 Combining a grand scale of materials, textures and surfaces throughout the Pacific House, Gockel have ensured that the design of the home is truly unique, and sets a precedent for the practice in sophistication and balance. A short walk from Noosa's Sunshine Beach, the house looks every bit the part in a modern coastal sense, but its what lies within that separates the Pacific House from its neighbours.
Photography by Andy Macpherson